At the Spanish and Portugese court, tobacco was used for a long time as an ornamental plant. It's only in the mid XVIth century that Philippe II's personal doctor started to introduce it as a universal medecine to be used to cure colds, asthma and circulatory disorders just to name a few.
Tobacco arrived in France around 1556. The story tells that it might be André THEVET (1524-1592), a monk from the Angoumois region, of the expedition of "de Villegagnon", coming back from Brazil, who brought back a bag full of seeds and sowed them in his native land.
The large veined leaf was first of all smoked in a pipe and then taken powdered from a grater.
Snuff tabacco owed its success thanks to its introduction to Catherine de MEDICIS (1519-1589), Queen of France during the reign of Henri II, whose son Charles IX (1550-1574) was suffering from severe migraines and that no doctor had managed to cure.
Catherine de Médicis and her son Charles IX
Jean NICOT (1530-1600) then Ambassador of France in Portugal where he had discovered the healing properties of tabacco introduced it at the French court and recommended this remedy to the young prince. After a few powder tabacco takes his migraines alleviated.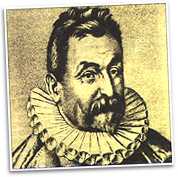 *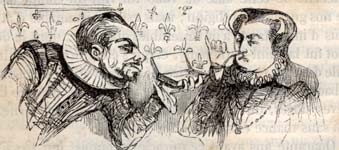 Jean NICOT / NICOT offering a pinch of snuff to Catherine de Medicis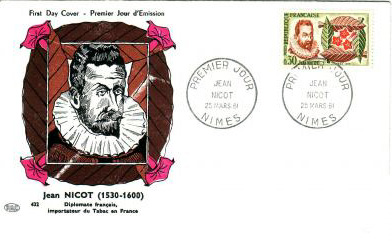 Envelope First Day Cover Jean NICOT
March 25th 1961, Nimes / FRANCE
The treatment was a real success. The Queen favoured its promotion in the whole court and the entire court started to snuff. It was first and only sold at apothecaries under various names such as : "Herbe à la reine", "Cathérinaire", "Médicée", "Herbe à Nicot", "Herbe à l'Ambassadeur"...
As a tribute to Jean NICOT, botanists named this tabacco plant : "Nicotiana tabacum".
Later on, its sneezing properties and the pleasantness enjoyed through inhaling a scented powder which could prevent from breathing the rather disgraceful odours of the streets of that time, made it fashionable throughtout the kingdom. Scented oils or herbs were often added to the tobacco in order to refine its taste.
Snuff tabacco, rather exotic, was mainly reserved to refined aristocratic and bourgeois nostrils while chewing tabacco could only be used by peasants' mouths.
Pleople started to snuff in the first place to cure diseases and then for pleasure.
Snuffing tabacco spread widely throughout Europe and in European parlours it was common to be interupted in one's conversation by the sound of a sneezing then considered as distinguished. Women snuffed as fervently as men . It was good manners to change snuff boxes every day and they were meant to be adapted to the clothes or spririt of their owners. Taken from a pocket or a small bag, in parlours, they were passed round from hand to hand which enabled to determine the social status and wealth of their owners.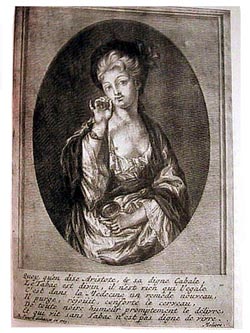 Therefore, snuff boxes, often decorated, became the latest fashionable accessory but also an important symbol of social status.
As such, the snuff box was often offered as a present or carried as a piece of jewellery.
It was offered as a token of one's love with the portrait of the loved one or to prove one's friendship.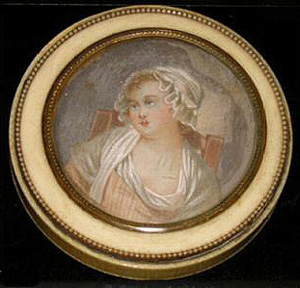 Precious models, made of silver or decorated with precious stones were usually offered as a diplomatic or military present.
Louis XIV, who wasn't a snuff taker himself used to have some costly ones made especially in order to offer them to foreign diplomats whom he encountered.
Snuff boxes were therefore mostly made using gold with precious stones, silver, enamel, mother of pearl, oriental lacquer and vernis Martin ( french imitation of lacquer)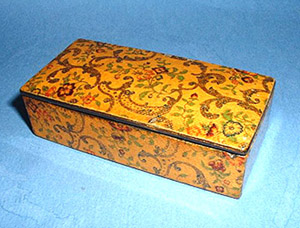 Vernis Martin
With time and the increase in its production (snuff tabacco made in MORLAIX was well appreciated), tobacco became more and more popular and finally reached every rank of our society.
So, during the French revolution, snuff boxes weren't only reserved to richmen but -tobacco being now a popular product- to everybody . As a matter of fact, the Republic welcomed the snuff box as an official present. The snuff box also became a rallying symbol of the "sans culottes" and was greatly used by the army.
*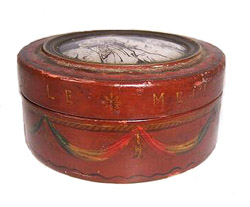 Sarcastic revolutionnary snuff box made of wood with vernis Martin and depicting
a "sans-culotte" covering Louis the XVIth with the phrygian's hat.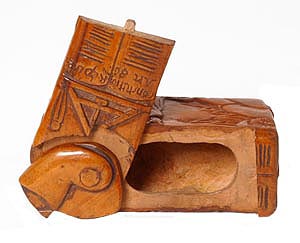 Revolutionnary snuff box from the Pompidou centre/ Paris
Copyright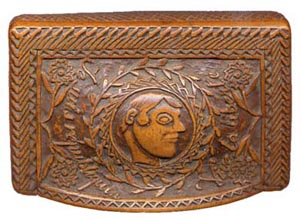 Republican snuff box
Then, Gold was replaced by "pompronne" (a less costly gold plated) :
Pompronne
...and new materials appeared: papier mâché, leather, bark... The waitress, the washer-woman and the poorest of peasants all carried a snuff box in their smock.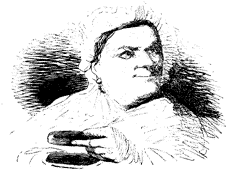 Sold only at apothicaries', tobacco started to show behind grocery counters before joining gambling clubs and pubs then called : "tabagies" .
Numerous shapes and sizes are available, either for the pocket or to be left on the table in living rooms, according to their use indoors or outdoors.
The pocket snuff box must be flat and of a small size in order to be able to easily find a tiny space in the pocket. Its shape must be made in such a way that it stays horizontally in the hand, with an opening large enough to enable a pinch of tabacco from two fingers, not too large to avoid the powder from flying away. Finally, its clasp must be perfectly air/watertight and its hinge must be made in such a way that tobacco can't penetrate inside.
Some users, such as sailors preferred the snuff boxes called "secouettes" (shakers). They are characterized by the fact that (unlike the classic snuff box) they don't carry lids but at least one hole . French sailors mainly from Britany (Bretons), used terracota "secouettes". Their manufacturing is related to the city of Quimper :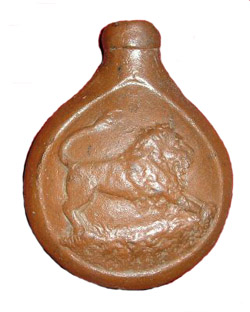 Beautiful Quimper made snuff box / secouette with the drawing of a lion.