The different shapes
With the passing years, shapes have softened:
The first snuff boxes date back to the second half of the XVIIth century. They were often pear-shaped. A tiny hole at their top, enables, when shaking, to pour some powder on the back of one's hand. These snuff boxes are called "secouettes" (shakers).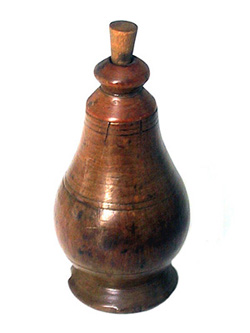 Example of a "secouette " dated from the end of the XVIIth century, beginning of the XVIIIth.
Plain under Louis XIV( "godrons", "trophées"..) they softened under Louis XV to become "rocaille", reminiscent of a scalop shell", oval, round, but more often rectangular.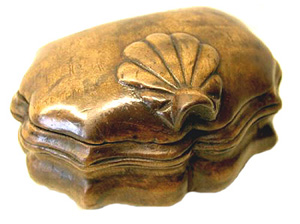 Walnut snuff box circa 1730
Around 1770, they tended to get oval or in the shape of a shuttle.

Shuttle shaped circa 1780
Finally, the end of the XVIIIth century is a come back to plainess and classical style with motifs inspired by ancient Greece (ovum, pilasters, interlacings...)
The decorations adapted to the evolution of the styles : mythologic, romantic or hunting scenes, miniatures, still lives, flowers....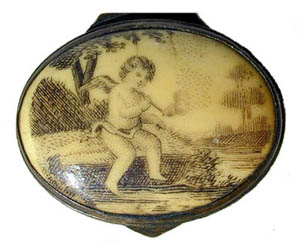 French snuff box / enamel / 1780
China snuff boxes were usually decorated with Chinese scenes or"chinoiseries".
Caricatures as well as erotic scenes were amongst the most common decorations: open to the eye and without any ambiguity during the XVIIIth century, they were to be hidden in false bottoms in the XIXth.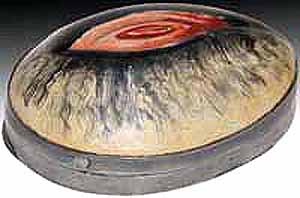 Erotic snuff box / pewter mounted ceramic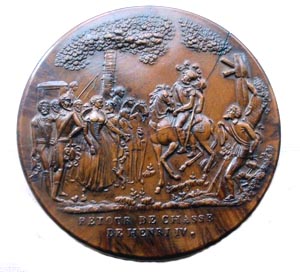 *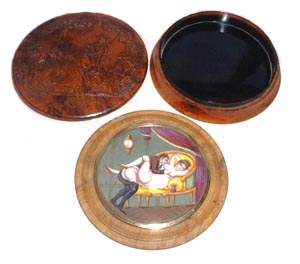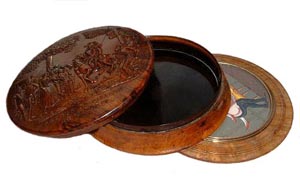 This rare French erotica high quality snuff box
houses a secret compartment
containing an erotic picture of a young couple. Circa 1820
The box itself measures 3 ¼ inches in diameter, and stands 7/8 inch high.
The title of the scene on the lid is :
'RETOUR DE CHASSE DE HENRI IV'
(The return of the hunt of Henry 4th)
Picture: Don Preston Antiques, Leics/UK
The most common material used:
At the beginning of the XIXth century, Napoleon I' s ardent supporters adopt pocket snuff boxes made of black horn, brass or wood bearing the effigy of their idol, in the shape of his hat, or glorifying his victorious battles.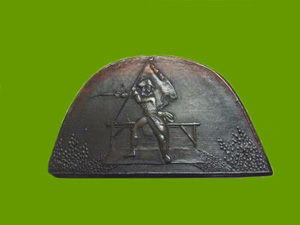 *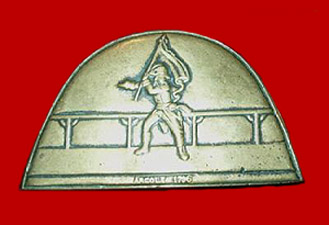 Snuff box shaped as Napoleon's cocked hat made of dark horn and other one in brass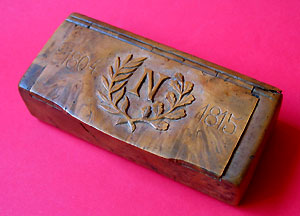 1*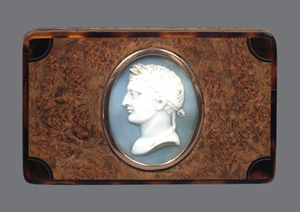 2
Pictures: 1: www.tabacollector.com; 2: www.desouzy.com
Snuff box made of box wood and other one made of thuja and tortoise shell with a cameo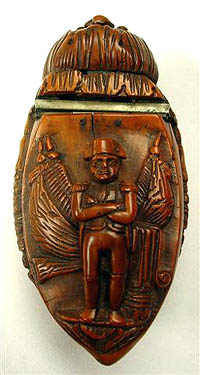 *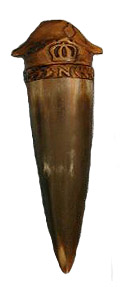 Snuff boxes made of coco nut and other one in horn
Lithography showing Napoléon taking a pinch of snuff
Conversely, those who looked back nostagically to the monarchy carry models made of papier maché representing a weeping willow or profiles of Louis XVI, Marie-Antoinette or the dauphin: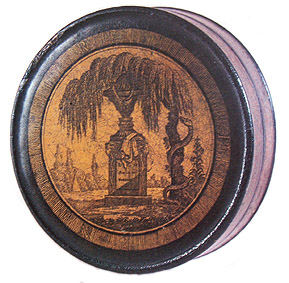 Picture: book: Tabac et Sociétés "l'herbe de tous les maux"
Musée du tabac BERGERAC
During the restoration period (1815-1830) and Charles the X (1824-1830), pocket snuff boxes were more often made of burr wood, using rounded shapes and ornamented with portraits or scenes with pastel colours inspired by the romanticism.
Snuff boxes with mottos or with interlaced initials were very popular too.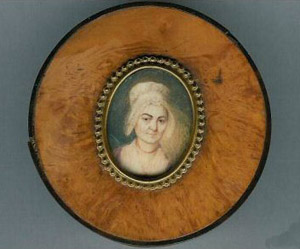 burr snuff box with miniature
From Louis Philippe (1830), the current taste is pastiche. Compared with the decorations of previous centuries, we find naive scenes, often personalized by a name , a date or a tool. Countryside scenes, works in the fields, saucy motifs and carictures were to be fore.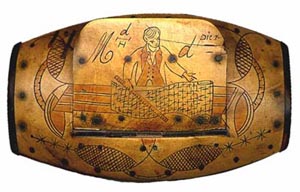 *
Draper and cartwright' s snuff boxes
The most common snuff boxes were made of exotic woods (gaïac, amourette or ebony), laminated thuja, boxwood and burr (cherrywood). We also find some made in bovine or corded stag horn, in engraved bones (walrus ivory, sperm whale teeth...), in metal rimmed shells or in corozo nutshell (also called "vegetal ivory").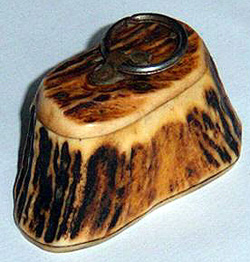 *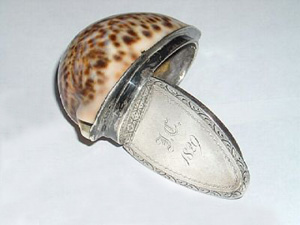 Snuff boxes made of stag horn and other one in Cowrie shell + silver
Corozo nutshell
In addition to all these materials, we can also add : straw marquetry, boiled cardboard, papier mâché, blonde or black horn with or without ivory inlays, tortoise shell, stoneware and pewter not forgetting copper and brass.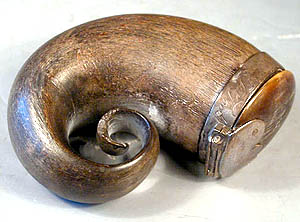 Beautiful example of a Scottish "Mull" made from horn with silver inlay
Black lacquer only appears during the second Empire ( 1852-1870) and at the end of the XIXth century, boiled leather and carved coconuts were highly rated.