This aside brings you some anecdotes concerning the use of the snuff box through different French regional traditions:
1/ In the Bresse county , the groom to be used to buy a snuff box in order to offer, on the occasion of his engagement, a pinch of tobacco to each of his masculine guests while the bride to be distributed sugared almonds. Quite often, the groom to be, not being a sniffer himself, gave up his snuff box after the celebrations.
See here below an example of a typical engagement/wedding snuff box:
It is generally made of wood, in the shape of a clog with a hart or some flowers carved on the heel side. To open the lid, ones had to action different parts in order to be able to make it rotating.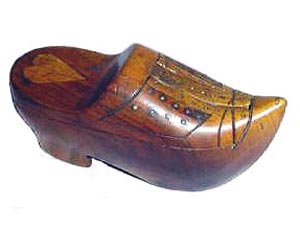 *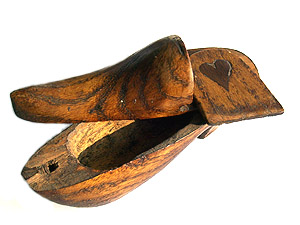 Puzzle wedding snuff boxes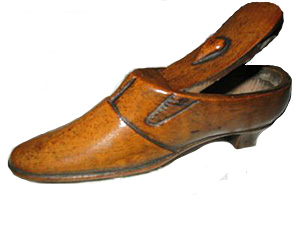 *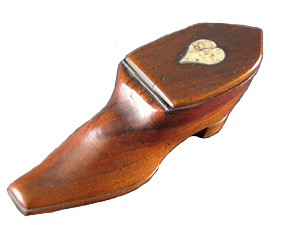 Other examples of wedding snuff boxes.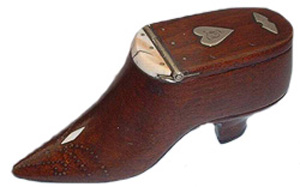 *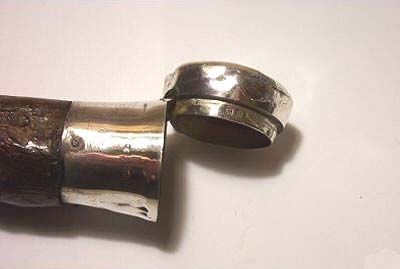 Allmarks sterling silver snuff walking stick.
Made in England.

*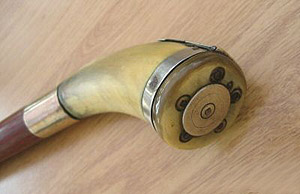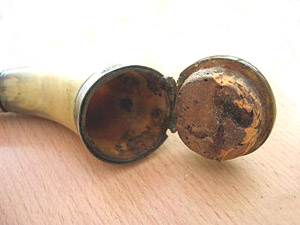 *

RARE SCOTTISH HORN SNUFF MULL WALKING CANE
Circ1840
An extremely rare, rams horn, white metal & brass mounted, Mahogany dress cane measuring 86cm in length. The mull section measures 10cm high and 4cm wide and retains it's original cork stopper. Metal mounts depicts a sheild and what looks like a rabbit's head! There is a circular disc to the centre of the lid section.
The horn is in excellent condition with no cracks, repairs etc. The mounts of the cane are of a highly polished brass.
Picture courtesy of Margo from UK for her pictures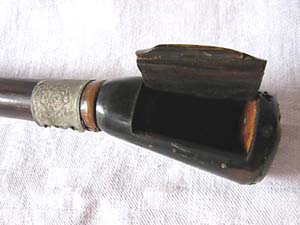 *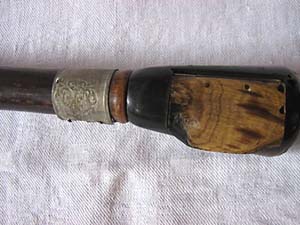 HORN SNUFF WALKING STICK
Horn and wood with decorated aluminium ring
Picture courtesy of Brocjob / Auvergne / France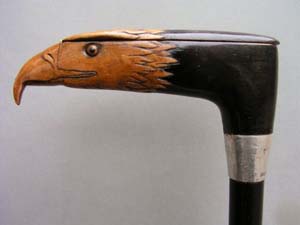 *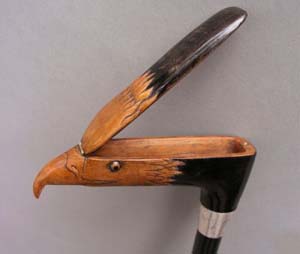 Outstanding ebonised snuff box walking stick s with an American eagle's head; English late 19th Century.
Picture courtesy of Silverzebrano/Merseyside / UK

If you have any anecdotes relating traditionnal stories about the use of snuff or snuff box;
do not hesitate to contact me, I shall be very pleased to mention them on my web site !!!
******************
Many thanks to Alan for sending the below information:
Sorry my French is not up to a translation, but I have found a report in an old parish magazine dated 1871 from Buckinghamshire, England of a village fair or fete to raise money for the church and the church school. It states that one of the "amusements" was "snuff-box-sticks". Do you think this means that the children or adults went around offering a pinch in return for a little money as you state happened in France or could it have been some sort of game. Either way I thought you might be interested.
Kind regards - Alan Mountford